CTI Freight Services, LLC's Ohio Specials
CTI Freight Services, LLC offers same day or next morning delivery at discounted prices to Intra-Ohio-Midwest major markets and intermediate points such as: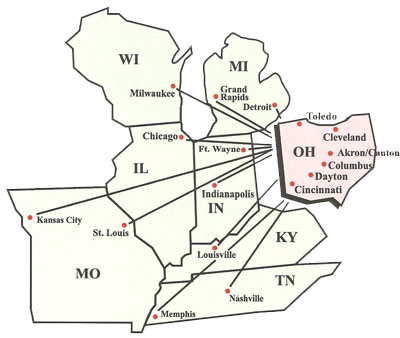 Akron, Ohio
Canton, Ohio
Cincinnati, Ohio
Cleveland, Ohio
Columbus, Ohio
Dayton, Ohio
Toledo, Ohio
Louisville, Kentucky
Chicago, Illinois
Ft. Wayne, Indiana
Indianapolis, Indiana
Memphis, Tennessee
Nashville, Tennessee
Kansas City, Missouri
St. Louis, Missouri
Detroit, Michigan
Grand Rapids, Michigan
Milwaukee, Wisconsin
Call us today Toll FREE at 1-877-343-5284 or locally at (513) 697-1000 for a pickup or a quote. You can also fax in a request for a quote to (513) 697-9444.

Download CTI's Ohio Specials flyer
You must have Adobe Reader in order to be able to download and view any PDF files on this site. Click on the Adobe logo here to install this FREE software if needed.